24V 100Ah LiFePO4 Battery Pack 25.6V Deep Cycle Battery with 8S 25.6V 100Ah BMS Replace Most Backup Power/Solar/RV/BOOT
Nominal capacity: 25.6V 100Ah
Energy content: 2560Wh
Cell technology: A-grade lithium iron phosphate LiFePO4
Dimensions (WxDxH): 522 x 240 x 218 mm
Item weight: 21 .2 Kg
BMS: 100A
Operating voltage:16~29.2V
Operating temperature:-5°C~55°C
Emission temperature:-40~65°C
Standard charging temperature:25 ±2℃
Standard charging voltage:29.2V
Absolute discharge voltage:Maximum 16V
Standard charging current:50A (0.5C)
Absolute charging current:50A (0.5C )
Shipping capacity: 3-30% SOC
Cycle life:≥4000 cycle(100% DOD)
Self-discharge:3.5%/month
Connector:M8
Bolts:Included
Delivery time: 3 - 6 working days**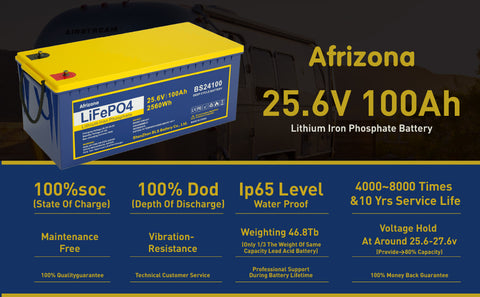 Application:
Engine starting battery, electric bike/motorcycle/scooter, golf trolley/carts, power tools... Solar and wind power system, RV, caravan... Back-up system and UPS... Flashlight LED light emergency light.
Actual capacity: >100Ah
Date of production: October 2021
Includes screw and busbars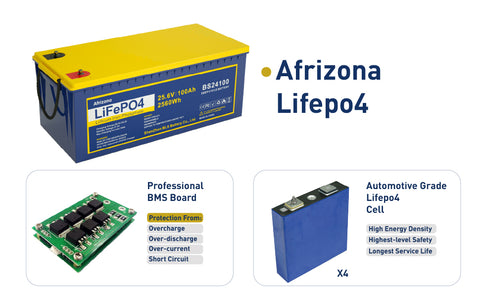 About this article:
2021 Brand new class A battery LifePo4 cells with QR code.
All products are sorted and shipped from Berlin, Germany and 3-6 working days fast.
This item is 100ah items, actual Capacity 100AH, Complete Product Code, Grade A, Brand New.
Price supplied with busbars and studs, a battery comes with a stud set.
We will test the voltage and internal resistance of all batteries to ensure the matching of cells: the voltage difference does not exceed 0.01V and the internal resistance difference does not exceed 0.02 milliohms.